It seems like every week there are new fads, detoxes and diet trends. One of the most buzzworthy as of lately is the Paleo diet. Haven't heard of it? Here's what you need to know! 

The 'Paleo' diet is short for Palaeolithic diet and is based on food that our ancient ancestors would have eaten. Sometimes the diet is referred to as the caveman diet having the foods included in its regimen consisting of meat, nuts, berries and other things our ancestors may have hunted and or gathered. The Palaeolithic era that the diet is based on occurred approximately 10,000 years ago. The logic behind this diet suggests that the drastic change in diet from the Palaeolithic era until now have been responsible for modern disease such as type 2 diabetes, most autoimmune diseases, heart disease, and obesity in general. Advocates say that during this era humans were at their most healthy and fit and thus we should be eating the food that our genes evolved with. Furthermore, it is believed that even today, humans are maladapted to eating food items such as dairy, processed sugars, refined oils, grains, legumes, and even corn. The Paleo diet stipulates you must refrain from eating:
Dairy

Grains

Corn

White potatoes

Legumes

Refined sugar

Refined oils

Processed foods

Alcohol
So what can you eat on the Paleo diet? The diet revolves around healthy fats from natural sources, natural carbohydrates derived from fruits and vegetables. Compared to many other diet plans, the Paleo diet incorporates more protein as a staple. Approximately 20-35% of the Paleo diet revolves around meat and seafood. The diet also calls for a reduction in carbohydrate intake and starchy fruits and vegetables. Many proponents of the Paleo diet boast that unlike many other fad diets, it's much more sustainable for long-term adherence. This is because unlike other fad diets that have the end goal of weight loss, the Paleo diet promotes an actual lifestylechange. Now this doesn't mean going to your local supermarket and picking up any meat from the butcher and assume you're accommodating a Paleo lifestyle. The idea is that you're sourcing free range, hormone free, naturally fed animals. For example, bacon has had a bad rep for being greasy and fatty. In actuality, bacon is high in healthy, saturated fats that aid in the functionality of the brain, bones and almost every cell in your body. What the diet doescondone a lot of is: fresh, organic fruits, vegetables, meat, seafood, eggs, nuts (excluding peanuts which are technically legumes), seeds, animal fat, avocado oil, olive oil, coconut oil, unrefined seed and nut oil, honey, and last but not least, maple syrup.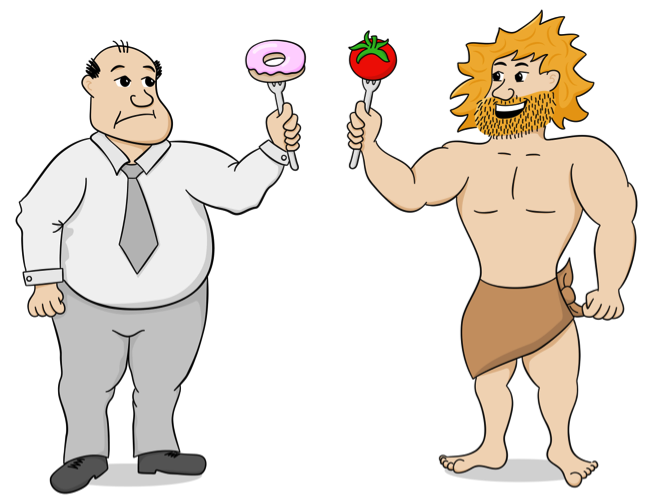 Here are some helpful guidelines to follow for developing a Paleo lifestyle:
o   Accept that fat is not a bad thing. Animal fats and saturated fats are healthyand actually good for you. Just make sure they come from well treated, grass or grain fed animals.
o   Protein, protein, protein! Make sure your diet includes plentyof organic chicken, beef, pork (especially the fatty cuts), eggs, and wild caught seafood. Bonus: the bones can make an excellent broth!
o   High starch vegetables such as yams and sweet potatoes are an excellent source of good carbohydrates.
o   While eating in this manner is healthy for the human body, the key to this diet is portion control. Especially regarding items like nuts; eating too many can result in calorie and fat overload. Exercise self-control in snacking and portion size!
o   No. Added. Sugar. Perhaps one of the hardest parts of being Paleo is cutting out sugary fruit juices, soft drinks, and pre-packaged sweets.
o   Cut out dairy! Except butter.
o   Get used to cooking big batches of food. Take the time consuming effort out of cooking Paleo meals by making big batches of breakfast, lunch, dinner, and snacks on Sundays. This will save you time and money throughout the week while also preventing cheat meals and overeating!
o   Easy rule of thumb, if it comes in a box don't eat it! To ensure you stick to your diet guidelines it's often easier to prepare meals and snacks yourself.
Do you have any must-try Paleo recipes? Share them with us below!