Have you ever realized how you react to particular colours? Bright colours make us feel happy and upbeat, while darker colours can lead to feelings of laziness. Our own personal associations with a certain colour can also determine our mood.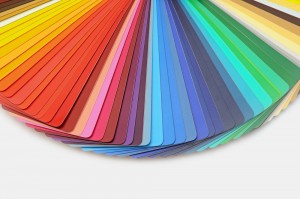 Many psychologists and designers believe that colour affects the energy level of a room. If you want an easy way to increase your happiness, productivity and inspiration, tap into the power of colour to find the ones that are right for you:
Red: the most emotionally intense colour; symbolizes love
Orange: encourages creativity, happiness and spontaneity; symbolizes warmth
Yellow: attention getting, uplifting and cheerful; symbolizes optimism
Green: the most popular decorating colour; symbolizes nature
Blue: peaceful, tranquil and calm; symbolizes loyalty
Purple: royalty, luxury, wealth; symbolizes sophistication
White: the colour of innocence and purity; symbolizes sterilization
Black: the colour of authority and power; symbolizes secrecy
With an understanding of what each colour can do for you, here are some simple, everyday ways that you can insert colour into your life:
1. Paint your room – give your bedroom or office a makeover by painting your wall with colours that induce happiness and warmth
2. Wear bright clothing – Woke up feeling a little tired or uninspired? Put on your brightest shirt or pants. You'll find that your mood will instantly improve.
3. Eat colourful foods – They not only taste good but they make you feel good as well!
Choose the colour that works for you and colour yourself happy!