Do you spend your days daydreaming about visiting temples in Thailand, eating fish and chips in England, or snorkelling in the Bahamas? You may suffer from wanderlust.
No, it's not life threatening. Wanderlust is simply the irresistible desire to travel! Sound like you?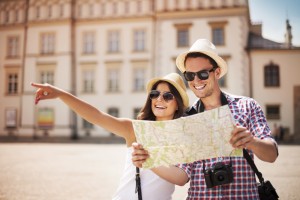 Travel can expose you to some of the most unique and memorable experiences. Meeting new people, trying new foods, sightseeing…all of these things not only teach you about a new country, but about yourself as well.
You don't need to travel very far to experience the benefits of a vacation. Whether you spend hours on a plane to cross to the other side of the world, or you just take a short bus ride, you can still take part in all that travel has to offer.
If you haven't traveled before, or are thinking about travelling, here are a few reasons why you should book a trip today:
You'll see things in perspective – your problems will seem very small compared to those in other countries
Eliminates stress – How can you be stressed while lying on a sandy white beach or exploring a new town?
You'll be happier and more positive
It can improve your relationships – If you travel with a partner, it will help to strengthen your bond
The possibilities and experiences while traveling abroad or within your own country are endless. Pick a place, book your ticket, pack your bags and go! The world is waiting for you!